Name:ZYF-J2-L Egg grader (101B)

Product Code: 101B

Capacity: 4,000 eggs/hour

Function: Egg grading, candling
Details
Features:
-- Made of stainless steel for greater durability.
-- Can sort eggs into 7 grades with an accuracy within ±1 gram and capacity of 4000 eggs/hour.
-- Includes egg grading & candling, optional egg printer and vacuum egg lifter.
-- Workers can check the cracked, dirty or other unqualified eggs through LED lights and pick them out manually. The candling booth includes the candling cover and mirror to reinforce the candling result.
-- The candling cover can be faced inwards or outwards (see pictures below).
-- Can be attached with ZENYER 200A egg washer, the 604B conveyor and egg printer to build up ZENYER 300A egg processing line with capacity of 3000 eggs/hour.
Egg grader

Model

ZYF-J2-L

Product code

101B

Capacity

4000 eggs/hour

Grading accuracy

±1 gram

Grades

7

Power

218W, 50HZ,3.6A

Voltage

220-240V, Single phase

Dimension (L* W* H)

1.7*1.45*2 M

Net weight

160 kg

Gross weight

260 kg

Function

Egg grading & candling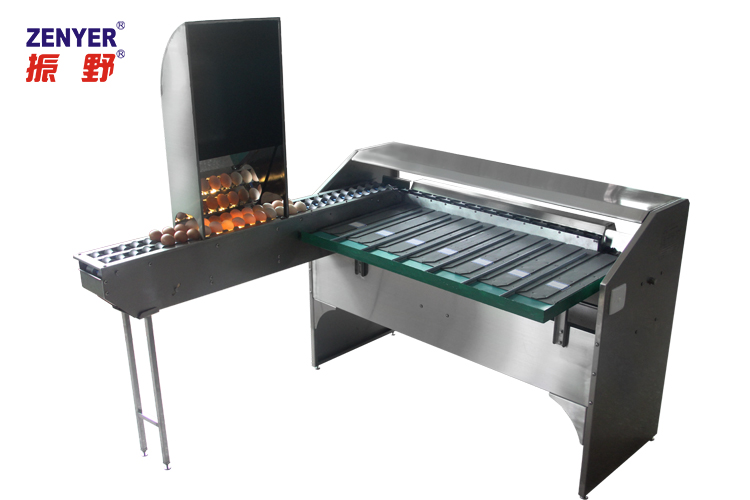 ZENYER 101B egg grader- the cover faces inside
ZENYER 101B egg grader- the cover faces outside
The 2-row LED candling booth with candling cover and mirror
Egg weighing system
ZENYER 402H egg printer matches on the 101B egg grader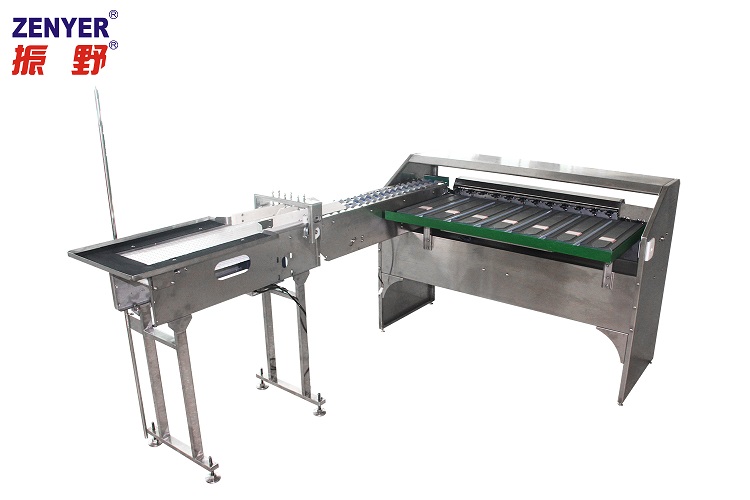 ZENYER 604A accumulator matches with the 101B egg grader
(Through the 604A accumulator, eggs are divided into 2 lines and transferred into the loading roller of 101B egg grader
automatically)
For ZENYER 101B egg grader(LED candler included): Only $7,700.00
Option:
-- The 602 Vacuum egg lifter: Only $1,980.00
-- The 604A accumulator: Only $2,200.00
-- The 402H Egg jet printer: Only $6,050.00
Price including GST
(In stock)
ZYF-J2-L Egg grader (101B) Brochure