Name:ZYS-ZK-30 Vacuum egg lifter (602)

Product Code: 602

Capacity: 15/30 eggs per lift

Function: Egg lifting & loading
Details
Features:
-- Designed to transfer eggs from trays onto machines or from the machines to the tray.
-- Features 30-suction cup handle, an elastic vacuum pipe, and a motor.
-- 6*5 suction cup can be changed into 3*5 suction cup based on users' requirements.
-- Usually work along with ZENYER 604A accumulator, the 604B conveyor, the 605A accumulator or
-- Can match with the 702 plastic egg tray.
Vacuum egg lifter

Model

ZYS-ZK-30

Product code

602

Capacity

40,000 eggs/hour

Power

550W, 50HZ,2.5A

Voltage

220-240V, Single phase

Length* Width* Height

330*312*400 mm

Option

3*5 or 6*5 cups

Gross weight

40 kg

Function

Egg lifting & loading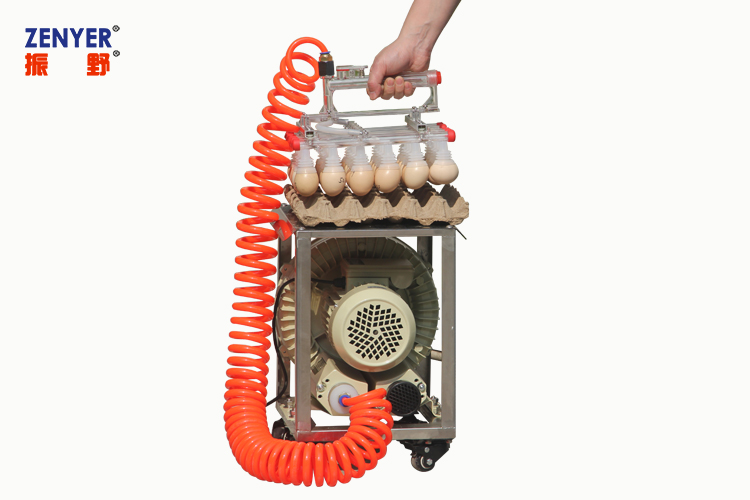 Vacuum egg lifter system
6*5 cups can be changed into 3*5=15 cups
For ZENYER 602 Vacuum egg lifter:only $1,980.00
Price including GST
(In Stock)
Video link of vacuum egg lifter system: https://www.youtube.com/watch?v=DyzcLFs3fIc
Increase efficiency, reduce labor costs with ZENYER vacuum egg lifter system
ZYS-ZK-30 Vacuum egg lifter (602) Brochure