Name:ZYL-J1-J2 Egg processing line (300A)

Product Code: 300A

Capacity: 3,000 eggs/hour

Function: Washing, UV, candling, grading
Details
Features:
-- Made of stainless steel for better durability, corrosion resistance and hygiene.
-- ZENYER 300A egg processing line is comprised of the 200A egg washer, the 604B conveyor and the 101B egg grader.
-- Including ramp loading, candler, sanitizer sprayer, egg washing and drying, UV sterilizing, candling, grading and optional egg printer with capacity of 3000 eggs/hour.
-- Can be installed either in a straight line, or in a right angle.
Egg processing line

Model

ZYL-J1-J2

Product code

300A

Capacity

3,000 eggs/hour

Power

6.3 KW, 50HZ

Voltage*

380V, 3-phase

Dimension

(L* W* H)

7.3*1.57 *1.6 M

Net weight

800 kg

Gross weight

1150 kg

Function

Ramp loading, candler, sanitizer sprayer,washing, drying, UV sterilizing,

candling, grading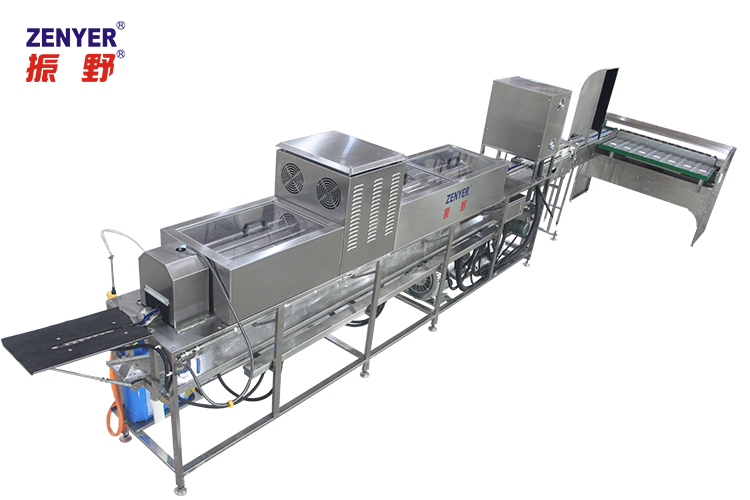 The ZENYER 300A Egg processing line
Option:
-- The 401H Egg jet printer: Only $4,950.00
Price including GST
(In stock)
* standard configuration is 3-phase,please remind us if you need single phase.
ZYL-J1-J2 Egg processing line (300A) Brochure